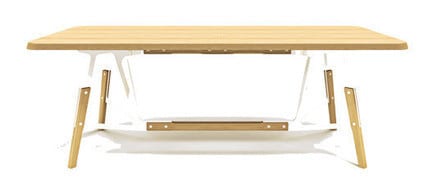 The STAMMTISCH table

Aerdenhout, The Netherlands
The Stammtisch table for Quodes design Alfredo Häberli in Milan




Aerdenhout, The Netherlands, 2012-05-23 –

Again, the enthusiastic brand Quodes adds a beautiful new design to its collection: the STAMMTISCH table designed by the renowned Swiss designer Alfredo Häberli. Like the other Quodes furniture this table is a durable object with a soul, fitting into the Quodes philosophy. The STAMMTISCH is a 'social' table, inspired by the table for the regular visitor in a cafe. Alfredo Häberli translated this idea for the home and project market.
Pressemitteilung in deutscher Sprache
The '
STAMMTISCH
' table has been launched during the Salone del Mobile in the showroom of
kitchen manufacturer Schiffini
.
Häberli designed several kitchens for them, shown in two 'houses' with the dining table as the social focal point of the house. Quodes is proud to present the new table in these high quality surroundings.

The striking element of the
STAMMTISCH
table is the engineering construction of the chassis.

The light wood and laser cut sheet steel feel sophisticated and familiar at the same time.

The wooden legs are connected to the metal frame like the handgrip to a knife.

Quoting this Swiss symbol par excellence – the knife – gives the table a recognizable and playful appearance.

A subtle detail is the edge of the table top: the edges are not simply vertical, but their angle seem to move outwards at both ends, while moving slightly inwards at the sides.

This shape detail changes so naturally that you only notice it in a second instance.

Likewise, the frame naturally absorbs the active forces of gravity.

The oval-shaped table top is non-hierarchical when in use.

The possibility to let your feet rest on the lower horizontal bar strengthens its informal character.

The
STAMMTISCH
will have various models and sizes, including rectangular and (probably) round table top shapes. Other materials of the table top and colors of the frame will be possible, especially for projects.

The
STAMMTISCH
is a razor sharp idea and typical for the high quality of the steadily growing Quodes collection.
The collection includes carefully selected designers like Marcel Wanders, Alfredo Häberli, Barber Osgerby and Nendo.
In some instances collaboration began before the designers became well known, such as the cabinet range SATELLITE designed by Barber Osgerby in 2006 and the furniture designed by Nendo for which the cooperation began in 2008.
In five years time Quodes realized a top collection that was exhibited in the prestigious Museum für Gestaltung in Zurich and used in interior projects of Philippe Starck and Marcel Wanders.

Quote from the designer
(English translation of the original text in German (also available):

"The idea was to design a social, warm yet visually lightweight table. The smooth, oval shape invites a large number of people to take a place. Deliberately a bar was created in longitudinal direction just above the floor, which serves to place the feet on.

The result is a posture that was previously seen on many restaurant tables: a relaxed, légère attitude that comes up when a certain amount of coziness is available.

The type of construction (sheet metal and wood) has drawn its inspiration from the modern details of the carpentry crafts; the console and joist hangers made of plain steel have their sophisticated rebirth. Different colors of the metal parts provide the table with different characters. "
Alfredo Häberli 

– 30 –
Media contact
Quodes


Bert Por
31 (0) 23 533 7 533
Photo credit:
Nicole Marnati

~

1.1 MB
Photo credit:
Nicole Marnati

~

420 KB
Photo credit:
Nicole Marnati

~

390 KB
Photo credit:
Nicole Marnati

~

510 KB
Photo credit:
Nicole Marnati

~

690 KB
Photo credit:
Nicole Marnati

~

470 KB
Photo credit:
Nicole Marnati

~

880 KB
Photo credit:
Nicole Marnati

~

730 KB