Home
Landscape Architecture
How can ecosystems contribute to quality of life and a more livable, healthier and more resilient urban environment?
Have you ever considered all the different benefits the ecosystem could potentially deliver to you and your surroundings? Unsustainable urbanization has resulted in the loss of biodiversity, the destruction of habitats and has therefore limited the ability of ecosystems to deliver the advantages they could confer.
This course establishes the priorities and highlights the direct values of including principles based on natural processes in urban planning and design. Take a sewage system or a public space for example. By integrating nature-based solutions they can deliver the exact same performance while also being beneficial for the environment, society and economy.
Increased connectivity between existing, modified and new ecosystems and restoring and rehabilitating them within cities through nature-based solutions provides greater resilience and the capacity to adapt more swiftly to cope with the effects of climate change and other global shifts.
This course will teach you about the design, construction, implementation and monitoring of nature-based solutions for urban ecosystems and the ecological coherence of sustainable cities. Constructing smart cities and metropolitan regions with nature-based ecosystems will secure a fair distribution of benefits from the renewed urban ecology.
This course forms a part of the educational programme of the AMS Amsterdam Institute for Advanced Metropolitan Solutions and will present the state-of-the-art theories and methods developed by the Delft University of Technology and Wageningen University & Research, two of the founding universities of the AMS Institute.
Instructors, with advanced expertise in Urban Ecology, Environmental Engineering, Urban Planning and Design, will equip designers and planners with the skills they need for the sustainable management of the built environment. The course will also benefit stakeholders from both private and public sectors who want to explore the multiple benefits of restored ecosystems in cities and metropolitan regions. They will gain the knowledge and skills required to make better informed and integrated decisions on city development and urban regeneration schemes.
What you will learn:
Theories and examples showing the development and benefits of NBS
To develop critical perspectives on your own location and environment
The interdependency and synthesis of governance, innovation, design, ecology and economy
Relational thinking focusing on problems, challenges, potential and solutions
Nature Based Metropolitan Solutions by TU Delft OpenCourseWare is licensed under a Creative Commons Attribution-NonCommercial-ShareAlike 4.0 International License.
Based on a work at https://online-learning.tudelft.nl/courses/nature-based-metropolitan-solutions/.
Women in Design (WiD) and Latin GSD, in collaboration with the Department of Landscape Architecture, present "Landscape Architecture in Latin America: Unpacking Theory, Practice, and Agency." This symposium will provide an opportunity to debate the current and future state of landscape architecture in Latin America. Latin America is formed by a diverse set of territories, offering both challenges and opportunities to the landscape discipline. This symposium brings together professionals from several countries to discuss the complex social, political, and environmental realities engaged in their work.
From the creation of ecological corridors in Bogota to urbanization in the Galapagos Islands, these designers interpret landscape through a range of lenses that include urbanism, architecture, ecology, and social engagement. Speaking to the many interdisciplinary interests at the GSD, panelists will frame conversations around theory and practice, established firms and emerging voices, and the role of equity in design. What is the intersection of research and built work? How is the discipline taught and regulated? How does landscape translate to academia and public policy? By presenting the current state of landscape architecture in Latin America this symposium will provide a space for imagining its future possibilities.
In the Arabian Peninsula, public spaces are often most used after darkness falls, and the temperature along with it. This symposium explores typologies of nocturnal landscapes common in the Arabian Peninsula and in locales with similar hot climates. During this interdisciplinary event, we will ask who uses night-time landscapes and public spaces, what activities are peculiar to the night, and, ultimately, how to design for life after dark. Organized by Gareth Doherty, assistant professor of landscape architecture, and William Granara, director, Harvard University Center for Middle Eastern Studies. Supported by the Aga Khan Program in Islamic Architecture.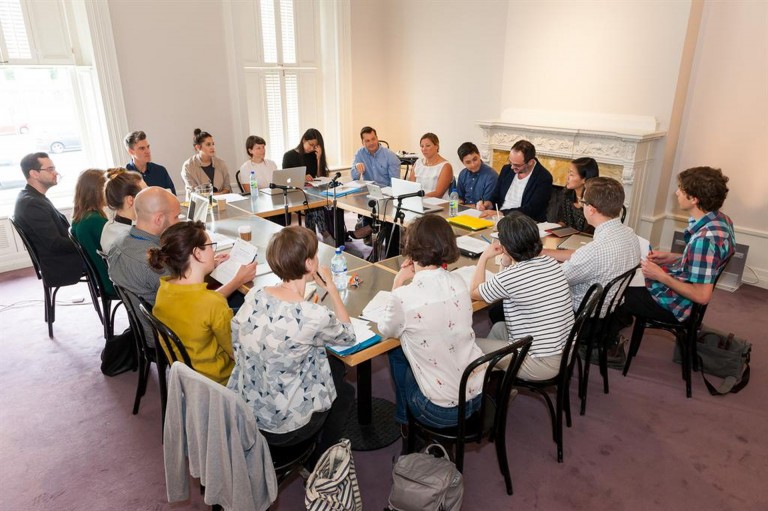 The CCA presents Toolkit 2016, a two-week summer seminar for PhD candidates from around the world, devoted to "Keywords for the Environment." We invited four scholars coming from different disciplines—architecture history, environmental humanities, media studies and landscape architecture—to present key concepts of contemporary debates.
The Leading with Landscape II: The Houston Transformation conference explored how ambitious, large-scale landscape-architectural projects are taking the lead in shaping the nation's 4th largest city. Held at the Museum of Fine Arts, Houston Brown Auditorium on March 11, 2016, the conference brought together some of the leading thinkers and landscape architects who presented nationally significant projects. To learn more about the conference: http://tclf.org/sites/default/files/microsites/houston2016/index.html
Speakers:
Charles A. Birnbaum
Joe Turner
Mary Margaret Jones
Stephen Fox
Jane Anderson Curtis
Kinder Baumgardner
Scott McCready
Jack Ohly
Matthew Urbanski
Thomas L. Woltz
Douglas Reed
Steven Spears
Frederick Steiner
Chip Trageser
Annise Parker
Michael Skelly
William Fulton
Guy Hagstette
Molly Glentzer
Christopher L. Knapp
Mayor Ivy R. Taylor
Airport Landscape claims the airport as a site of and for landscape. Airports have never been more central to the life of cities, yet they remain peripheral in design discourse. In spite of this, landscape architects have recently reasserted their historic claims on the airfield as a site of design through a range of practices.
Airport Landscape presents these practices through projects for the ecological enhancement of operating airfields and the conversion of abandoned airfields.
The conference convenes a discussion of the airport as landscape with sessions on airport cultures, infrastructures, and ecologies. The conference features keynote lectures by:
Peter Galison
Adriaan Geuze
Christophe Girot
David Pascoe
As well as project presentations by:
Henri Bava
Philippe Coignet
Eelco Hooftman
Mary Margaret Jones
Ken Smith
A panel of landscape architects, urban designers, and other designers discussed the challenges they feel are present within the contemporary evolution of urban design or landscape urbanism. Charles Waldheim, the first speaker, advocates the need to address challenges which surpass the present boundaries of the constantly evolving discourse of urban design. In our opinion this has been slowly becoming more popular, especially the integration of landscape design into the infrastructure and interstitial space inherent in the contemporary historical city. The High Line Park in New York is a popular example of the combination of landscape and infrastructure to create a new urban form. The blending of infrastructure and landscape creates a flowing functionality and an ambiguity between the natural environment and the created environment.
This recent tendency to embrace multiple disciplines within one definition – landscape architecture, landscape urbanism – is really interesting and it seems that the total architecture of some utopian cities is relevant. However, instead of total management it seems to be total recognition. In the video Susan Fainstein and Michaele Pride refer to the importance of equity and "messy" urbanism respectively. It is understood that urban design as a tool of multiplicity will be pulled in different directions by all of the influences being recognized, but Fainstein argues that equity is the most significant in this situation.
Speakers:
Andres Duany
Bjarke Ingels
Adele Santos
Hashim Sarkis
Michael Sorkin
Marion Weiss
And More
A Garden History Society conference on landscape designer Humphry Repton. A series of commissions led Repton to publish a book of Sketches and Hints on Landscape Gardening in 1795. Like his later books this drew upon the Red Books he had produced for clients which laid out recommendations for their estates using his ingenious 'before and after' sketches.
Part 1:
Introduction – David Jacques (Director, AA Garden Conservation programme) & Mohsen Mostafavi (Chair, AA)
Derek Adlam (Curator of the Portland Collection, Welbeck Abbey)
André Rogger (Lecturer in History of Art at the Academy of Art and Design, Lucerne)
Hazel Fryer (Landscape architect, former Chair of Association of Gardens Trust) Moderated by Dominic Cole (Chair, Garden History Society)
Part 2:
Panel discussion with Derek Adlam, André Rogger, Hazel Fryer, moderated by Dominic Cole.
Timothy Mowl (Professor of History of Architecture and Designed Landscapes, University of Bristol) – 'Repton the Sweeper: Tidying up after Capability Brown'
John Phibbs (Garden Historian, Landscape Surveyor) – 'Planting Peeps from the Boudoir: Useful Preliminaries to reading a Repton Red Book' Moderated by Barbara Simms (Chair, London Parks and Gardens Trust)
Part 3:
Stephen Daniels (Professor of Cultural Geography, University of Nottingham) – 'Humphry Repton Revisited: Some New Approaches'
Panel discussion with Timothy Mowl, John Phibbs, Stephen Daniels, moderated by Barbara Simms.
Often overlooked as a topic within garden conservation programmes, correct detailing is a vital consideration in grant applications and management plans.
This two-day conference – the first day concentrating on plants and planting, the second day focusing on hard landscape – looks closely at detailing in historic parks and gardens.
Conference chaired by Ted Fawcett (founder of the AA Garden Conservation programme).
Mohsen Mostafavi (Chair of the AA) – Introduction
David Jacques (Director of the AA Garden Conservation programme) – 'Appropriate Detailing'
Clemence Wimmer (freelance Garden designer, Garden historian, Curator of garden monuments in Potsdam) – 'On planting design in the eighteenth-century'