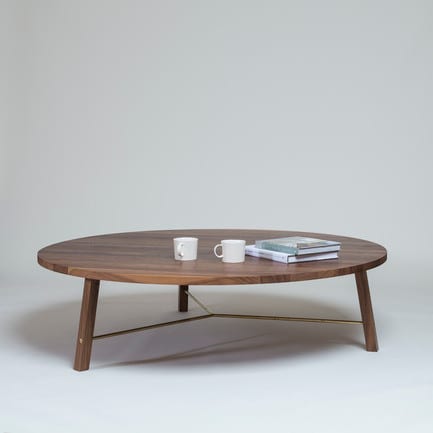 A v2com exclusive

Another Country present collection updates at Maison & Objet 2015


London, United Kingdom

London, United Kingdom, 2015-01-26 –

Another Country, one of the UK's best-loved contemporary craft furniture companies, is proud to return to Maison & Objet in Paris for a second time this January to present an edited collection of their award-winning furniture, lighting and home accessories.
The clean-cut, angular forms of the much-acclaimed Series Two collection were inspired by the no-nonsense style of Japanese and Scandinavian furniture, and for 2015 the collection will be reimagined in the rich natural beauty of walnut wood. Brass fixings provides an additional accent to this dark grain, adding decoration as well as structural support. The Series Two range includes a side table, side bench, dining table, day bed and bar stools. 
Originally designed for UK retailer Heal's, the Sleep Series is now available for UK and worldwide distribution and wholesale orders. Inspired by the functional forms, clean lines and enduring craftsmanship of Shaker furniture, at the heart of the series is a generous, sturdy bed frame constructed from pale ash, with brush brass feet and a generous headrest covered in soft natural linen. A bedside table, blanket chest, chest of drawers and tallboy complete the collection. 
Hard-wearing and archetypal, the Series One collection is epitomised by all-round utility and classically stylish lines. Previously crafted in durable oak, the series is now available in cool ash, a craft wood known for its versatility which brings a contemporary update to this much loved collection for 2015. Inspired by the Series One furniture collection, Another Country's Pottery Series employs different clay bodies with different properties for each vessel and use. New black and natural clay variants are the latest additions to this popular series and will be presented at Maison & Objet alongside the original Terracotta pitcher, which has been fired to an unconventionally high temperature that vitrifies the body of the clay giving it the strength of stoneware and achieving the scorched colour. 
Another Country are also UK & European distributors of Brooklyn-based lighting brand Workstead, who design light solutions that celebrate the beauty of the industrial form. New for 2015 is the Workstead black pendant, composed of a long steel rod, powder coated brass disc and black socket. The pendant ceiling fixtures fuse the concept of the chandelier with a keen understanding of function and flexibility, and the blackened brass joint allows for 90 degrees of rotation. The fixture is both articulate and elemental; its goal is to gracefully exhibit the physical properties of light.
Notes to editor:
Founded in 2010 by Paul de Zwart, the founding publisher of Wallpaper* Magazine, Another Country is a UK manufacturer of furniture and accessories for the home that believes in sustainable manufacture, longevity of its designs and quality at fair prices. Another Country's designs are inspired by archetype, calling on the familiar and unpretentious forms of British Country kitchen style, Shaker, traditional Scandinavian and Japanese woodwork for inspiration. They endeavour to re-interpret the spirit and functionality of these honest forms of furniture for a modern customer.
The much-acclaimed Series One collection is characterised by familiar forms of craft furniture pared back to their most basic elements using efficient workshop techniques and the best quality oak wood. Series Two, presented in 2011, is inspired by the no-nonsense style of Japanese and Scandinavian furniture and the pale woods favoured in contemporary Belgian interior architecture; these combine beautifully with the darker colour of walnut and brass metalwork. Series Three, the most recent collection presented in Autumn 2013, draws inspiration from the English Edwardian workshop table and is available in Beech or Oak with a range of colour options.
 
Another Country has recently been awarded Design Guild Mark by the Master of The Furniture Makers' Company, was shortlisted in the Best British Brand category for the 2013 Elle Decoration Design Awards and has opened its first 140sqmt retail space and showroom in Central London's Marylebone neighbourhood in May 2014.
Another Country
18 Crawford Street, Marylebone, W1H 1BT
For all press enquiries and product loans
please contact [email protected] or telephone +44 (0)20 7486 3251.

– 30 –
Media contact
Another Country
Kate Baxter
+44 (0)20 7486 3251
Custom Series Two Coffee Table in Walnut
Photo credit:
Another Country