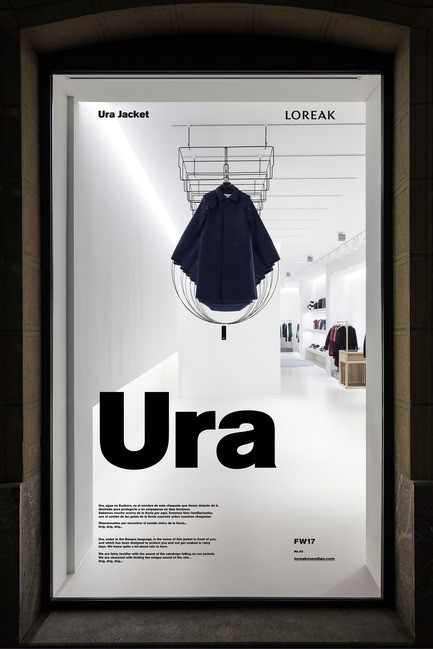 Ura Window Display

Donostia, Spain
'Window Display Of The Year' Frame Awards 2019


Donostia, Spain, 2019-03-20 –

Window Installation featuring the Ura raincoat. In the Basque language 'Ura' means water.
Fourteen waterproof raincoats are suspended from seven bicompartmental metallic structures strategically placed on the ceiling of the store simulating drops of water. The shoppers' attention is therefore drawn directly upwards to the product creating an inmersive environment for customers. Partially hidden details, such as bespoke carbon fiber rod supports, have been designed in order to achieve an optimal shape for each jacket which are numbered correlatively by a keychain attached to the hanging system giving the installation the appearance of a production line.
'Ura' considers the relationship between the individual and consumerism through the use of a dynamic interplay between structure and product. The social interaction between groups / individuals and material objects is changing and, as such, it is important to create shopping experiences that attract and draw in potential shoppers. Aside from the concept and the design of an unusual metallic structure, one of the most interesting aspects of this window installation is its occupation of an unconventional location, suspended above eye-level from the ceiling. Whilst this is not the most commercial location in which to display a product it is, along with the use of lighting, the key element of the project, drawing and focusing the attention of shoppers on the product. Indirect lighting is used in order to avoid awkward shadows and provides the installation with an ethereal atmosphere. A clean typography frames the window for passersby to gain editorial insight into the apparel.
Project Data
Floor area: 45 m2
Location of project: Garibay 22, 20004 Donostia-San Sebastián.
Completed: October 2017
Project credits
Client: Loreak www.loreakmendian.com
Creative Direction: Ion Ander Beloki
Studio: JA! Studio www.ja-studio.com
Production: Diana Gorostidi & Ana Sistiaga architects
Photographer: Pablo Axpe
About JA! Studio
JA! Studio was founded in 2000 by Ion Ander Beloki, a Basque spatial designer. With an academic training in interior and graphic design, his highly sculptural installations have been featured and reviewed in journals and international style magazines, such as Frame, Selected Europe, Window Display Design and Holistic Retail.
Exploring brand experience through visual composition, JA! Studio collaborates with designers and artists with a diverse range of skill sets including architecture, industrial design and sculpture. Embracing new formulas and ideas, our projects eliminate the superfluous and utilize only those elements which fully encapsulate the concept.
At the 2019 Frame Awards, Ja Studio received the "Window Display of TheYear" award for the Ura window installation.

– 30 –
Media contact
JA! Studio
Ion Ander Beloki
+34 649 545 355
Window installation main view
Photo credit:
Pablo Axpe
Window installation ceiling detail.
Photo credit:
Pablo Axpe
Carbon fiber rod supports detail.
Photo credit:
Pablo Axpe
Window installation ceiling detail.
Photo credit:
Pablo Axpe
Jacket numbering system detail.
Photo credit:
Pablo Axpe
Jacket production line detail.
Photo credit:
Pablo Axpe