How can ecosystems contribute to quality of life and a more livable, healthier and more resilient urban environment?
Have you ever considered all the different benefits the ecosystem could potentially deliver to you and your surroundings? Unsustainable urbanization has resulted in the loss of biodiversity, the destruction of habitats and has therefore limited the ability of ecosystems to deliver the advantages they could confer.
This course establishes the priorities and highlights the direct values of including principles based on natural processes in urban planning and design. Take a sewage system or a public space for example. By integrating nature-based solutions they can deliver the exact same performance while also being beneficial for the environment, society and economy.
Increased connectivity between existing, modified and new ecosystems and restoring and rehabilitating them within cities through nature-based solutions provides greater resilience and the capacity to adapt more swiftly to cope with the effects of climate change and other global shifts.
This course will teach you about the design, construction, implementation and monitoring of nature-based solutions for urban ecosystems and the ecological coherence of sustainable cities. Constructing smart cities and metropolitan regions with nature-based ecosystems will secure a fair distribution of benefits from the renewed urban ecology.
This course forms a part of the educational programme of the AMS Amsterdam Institute for Advanced Metropolitan Solutions and will present the state-of-the-art theories and methods developed by the Delft University of Technology and Wageningen University & Research, two of the founding universities of the AMS Institute.
Instructors, with advanced expertise in Urban Ecology, Environmental Engineering, Urban Planning and Design, will equip designers and planners with the skills they need for the sustainable management of the built environment. The course will also benefit stakeholders from both private and public sectors who want to explore the multiple benefits of restored ecosystems in cities and metropolitan regions. They will gain the knowledge and skills required to make better informed and integrated decisions on city development and urban regeneration schemes.
What you will learn:
Theories and examples showing the development and benefits of NBS
To develop critical perspectives on your own location and environment
The interdependency and synthesis of governance, innovation, design, ecology and economy
Relational thinking focusing on problems, challenges, potential and solutions
Nature Based Metropolitan Solutions by TU Delft OpenCourseWare is licensed under a Creative Commons Attribution-NonCommercial-ShareAlike 4.0 International License.
Based on a work at https://online-learning.tudelft.nl/courses/nature-based-metropolitan-solutions/.
Reduction of energy consumption of buildings is an important step in the move towards a sustainable economy. How can buildings be made net zero energy, in different climates?
This course introduces you to zero energy design. It will teach you a stepped approach to design a zero energy climate concept for existing buildings: homes, schools, offices, shops etc. It will demonstrate how an integrated approach, which takes into account both passive measures (such as thermal insulation and sun shading) and active measures (such as heat pumps and photovoltaic panels), can deliver the best results.
It will do so by providing you with an overview of possible measures, and through reviewing several case studies of zero energy buildings in the Netherlands, with lessons for other climates as well. Thus, you will learn which measures are most suitable for individual buildings under local climate conditions.
This course is for anyone interested in making buildings more energy efficient, who already possess basic technical knowledge.
What you will learn:
Analyse the energy use of a building
Analyse the local climate and select appropriate measures
Develop an integrated net-zero-energy concept for the building
Apply a stepped approach to find energy reducing measure
Zero-Energy Design: an approach to make your building sustainable by TU Delft OpenCourseWare is licensed under a Creative Commons Attribution-NonCommercial-ShareAlike 4.0 International License.
The climate crisis is changing the world. Some people are moving in the face of rising seas and extreme weather, and others are redesigning the places they live. But those making such plans and those most affected by them are not always the same. The challenges posed by climate change thus force architects, planners, engineers, and others charged with imagining the future of their communities to contend with enduring questions of democracy and justice.
This conference foregrounds Louisiana's experience with these challenges, because on the Gulf Coast, the climate has changed. New designs and infrastructures have reshaped how Louisianans live, just as evacuation, eviction, and emigration in the face of rising seas have redefined where they live. All the while, as the United States confronts climate change it is already riven by stark inequalities. Escaping critical interrogation, technocratic plans promulgated in the name of "resilience" can not only reproduce, but exacerbate existing injustices across the country and beyond its borders. Many policies that promise security for some cause suffering for others. But must there be winners and losers in the pursuit of safety, justice, and democracy?
This event brings together architects, planners, scholars, artists, and others whose work engages with the challenges of planning for climate change. Using Louisiana as the case to "think with," participants will work comparatively to evaluate the perils and promises of risk and retreat, given the imperatives of justice and democracy.
Panel 1: Defining and Managing Risk
Craig Colten, Geography & Anthropology, Louisiana State University
Traci Birch, Coastal Sustainability Studio, Louisiana State University
Zachary Lamb, Princeton Mellon Fellow in Urbanism and the Environment
Monique Verdin, Another Gulf is Possible
Respondent: Liz Koslov, Urban Planning, Institute of the Environment and Sustainability, University of California, Los Angeles
Moderator: Andy Horowitz, Assistant Professor, Department of History, School of Liberal Arts, Tulane University
Panel 2: Evacuation, Emigration, Eviction
Jay Arena, Sociology, CUNY College of Staten Island
Monica Farris, University of New Orleans Center for Hazard Assessment, Response and Technology (CHART)
Farrah Cambrice, Sociology, Prairie View A&M University
Andreanecia Morris, Greater New Orleans Housing Alliance
Respondent: Zaire Dinzey-Flores, Sociology, Rutgers
Moderator: Fallon Samuels Aidoo, Jean Brainard Boebel Chair in Historic Preservation, Assistant Professor of Planning & Urban Studies, University of New Orleans
Panel 3: Greenwashing
Austin Allen, Design Jones LLC
Anthony Fontenot, Architecture, Woodbury School of Architecture
Thom Pepper, Common Ground New Orleans
Denise J. Reed, University of New Orleans
Respondent: Daniel Aldana Cohen, Sociology, University of Pennsylvania
Moderator: Carol McMichael Reese, PhD, Director of the City, Culture, and Community Ph.D. Proram; Professor of Architecture, Tulane University
Panel 4: Is This Democracy?
Charles Allen, National Audubon Society
Cedric Johnson, African American Studies & Political Science, University of Illinois at Chicago
Margarita Jover, Architecture, Tulane University
Bryan Parras, Sierra Club
Monxo Lopez, Africana and Puerto Rican/Latino Studies, Hunter College
Moderator: Reinhold Martin, Temple Hoyne Buell Center for the Study of American Architecture, Columbia University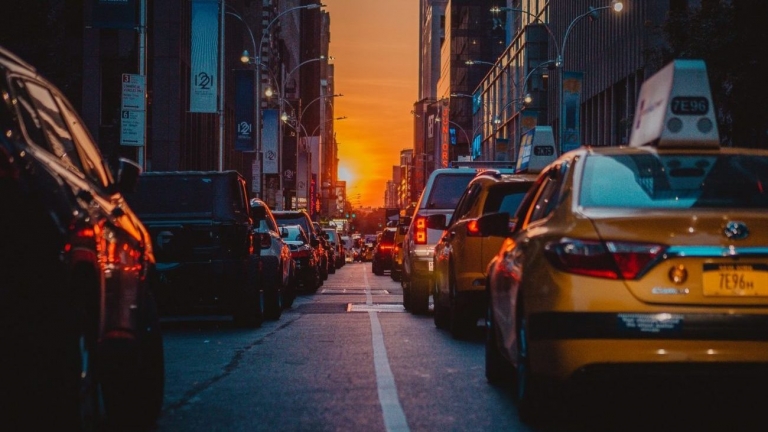 A one-day conference exploring the future of land-based transportation.
The urgency of radical action to mitigate the causes of climate change is more apparent every week. In early October 2018, the UN Intergovernmental Panel on Climate Change issued a report describing the transformative, systemic changes necessary to hold global warming to 1.5 degrees C, with a window for action of little more than a decade. An even more recent study published in Nature found that the oceans have absorbed much more heat from our warming planet than was previously understood, which means that the impact of burning fossil fuels is even higher than earlier projected. We are moving much more quickly toward perilously high increases in global temperature than we thought, with a much shorter timeframe to diminish and reverse our impact.
How do the ways that we move ourselves and the goods we manufacture and consume perform when measured in terms of greenhouse gas production? How do we imagine, and evaluate, transportation futures through this lens? Transportation: Connection and Its Costs, a part of the League's Five Thousand Pound Life initiative, is a three-part series of programs that looks at air, sea, and ground transportation in the age of climate change. Presentations and discussions from the programs on air and sea transportation, presented in June 2018, are available here.
The November 3, 2018 conference looked at land-based transportation of both people and goods. (Videos documenting the day can be found below.) The US EPA says that the transportation sector produced 28% of US greenhouse gas emissions in 2016 (tied as the largest sectoral producer, along with the production of electricity, also at 28%), and within the transport sector, land-based modes produced 85% of greenhouse gases. The accelerating pace of technological innovation in this arena, along with increasing capital investment and cultural evolution towards the adoption of new modes of movement and new demands for speed and ease in the movement of goods, have all coalesced into a moment of intense activity and discussion. Ride-hail companies have significantly changed the mix and number of vehicles on city streets around the country and around the world; the quality of service of public transportation, at least in New York, is in a sorry state; ambitious start-ups offer new products and services at a dizzying rate; autonomous vehicles are the focus of high-stakes competition among the big technology and car companies. Cultural critics, public policymakers, and designers are rushing to keep up.    
Are we asking the right questions as this wave of activity and invention sweeps us forward? What are the energy use and emissions implications of all of these new technologies, and the desires and demand they create? Does the move to electric-powered vehicles offer the benefits we think it does? Even with the intensity of interest in transportation futures, are we moving fast enough, and in the right direction, to do what needs to be done? Who gains and who loses in this transportation transition? Can public policy shape this explosion of activity for our collective benefit? How can architects and planners contribute to a productive future? 
The November 3 conference brought together scholars, policymakers, and designers to help understand the relationships between mobility, energy use, and climate change. The League's hope is that cross-disciplinary conversation about the assumptions embedded in our thinking, the potential unintended consequences of our actions, the choices we face, and the possibilities we can imagine can help set us on the path to a much less carbon intensive and more viable future.
The event was organized by The Architectural League and held at the Cooper Union.
Products and equipment all around us are made of materials: look around you and you will see phones, computers, cars, and buildings. We face challenges in securing the supply of materials and the impact this has on the planet. Innovative product design can help us find solutions to these challenges. This course will explore new ways of designing products.
The design of products is an important aspect of a circular economy. The circular economy approach addresses material supply challenges by keeping materials in use much longer and eventually returning materials for new use. The principle is that waste must be minimized. Products will be designed to last longer. They will be easier to Reuse, Repair, and Remanufacture. The product will eventually be broken down and Recycled. This is Design for R and is the focus of this course.
Experts from leading European universities and research organizations will explain the latest strategies in product design. Current design approaches lead to waste, loss of value and loss of resources. You will learn about the innovative ways in which companies are creating value, whilst securing their supply chains, by integrating Design for R.
This course is suitable for all learners who have an interest in product design, innovative engineering, new business activity, entrepreneurship, sustainability, circular economy and everyone who thinks that the current way we do things today needs a radical rethink.
What you will learn:
Learn "Design for R" strategies: reuse, repair, remanufacturing, and recycling.
Integrate life-cycle design into your skillset and your company vision.
Understand the strategic importance of raw material supply and conservation.
Effectively balance value creation with industrial sustainability.
Improve your strategic design skills to make better decisions.
Engineering Design for Circular Economy by TU Delft OpenCourseWare is licensed under a Creative Commons Attribution-NonCommercial-ShareAlike 4.0 International License.
Based on a work at https://online-learning.tudelft.nl/courses/engineering-design-circular-economy/.
Around the world, major challenges of our time such as population growth and climate change are being addressed in cities. Here, citizens play an important role amidst governments, companies, NGOs and researchers in creating social, technological and political innovations for achieving sustainability.
Citizens can be co-creators of sustainable cities when they engage in city politics or in the design of the urban environment and its technologies and infrastructure. In addition, citizens influence and are influenced by the technologies and systems that they use every day. Sustainability is thus a result of the interplay between technology, policy and people's daily lives. Understanding this interplay is essential for creating sustainable cities. In this MOOC, we zoom in on Amsterdam, Beijing, Ho Chi Minh City, Nairobi, Kampala and Suzhou as living labs for exploring the dynamics of co-creation for sustainable cities worldwide. We will address topics such as participative democracy and legitimacy, ICTs and big data, infrastructure and technology, and SMART technologies in daily life.
This global scope will be used to illustrate why specific forms of co-creation are preferred in specific urban contexts. Moreover, we will investigate and compare these cities on three themes that have a vast effect on city life:
Water and waste
Energy, air, food and mobility
Green spaces and food
This MOOC will teach you about the dynamics of co-creation and the key principles of citizens interacting with service providing companies, technology and infrastructure developers, policy makers and researchers. You will gain an understanding of major types of co-creation and their interdependency with their socio-technical and political contexts. You will become equipped to indicate how you can use co-creation to develop innovative technologies, policy arrangements or social practices for a sustainable city in your own community. You will demonstrate this by developing an action plan, research proposal or project idea.
Basic knowledge of sustainability in urban settings, urban environmental technology and urban management is assumed.
What you will learn:
Different definitions, forms and typical examples of co-creation for developing sustainable urban water, energy and green systems.
The potential of co-creation for developing sustainable cities.
The interdependency between co-creation and its policy and socio-technical contexts.
Comparison of different real-life cases of co-creation.
To understand interdependencies between the real-life cases of co-creation and their policy and socio-technical contexts.
How to formulate the potential of co-creation in your work or daily life.
Citizens Co-creating Sustainable Cities by TU Delft OpenCourseWare is licensed under a Creative Commons Attribution-NonCommercial-ShareAlike 4.0 International License.
Based on a work at https://online-learning.tudelft.nl/courses/citizens-co-creating-sustainable-cities/.
Do you have a passion for buildings and want to contribute to a sustainable environment? Then this is your chance to make a difference! The biggest sustainability challenge for cities worldwide is adapting existing obsolescent buildings and making them future-proof. In this course, you will learn about adapting buildings for sustainability.
This course first introduces you to the challenging management task of redeveloping buildings for future use. Then you will learn how different management tools can be used to convert old buildings for sustainable reuse.
Prior experience with studies or jobs related to the built environment is not essential for this course, but will be a great advantage.
This MOOC is especially relevant for students who are interested in Real Estate, Project Management, Urban Planning, Architecture, Construction, Engineering, and Sustainability.
The course is taught by a multi-disciplinary team of instructors and professors with relevant practical and theoretical experience. You can use the practical knowledge you obtain during this course to tackle many challenges related to the built environment.
What you'll learn:
Understand building adaptation management as a cyclical process;
Identify various sustainability challenges that occur in building adaptations;
Distinguish between multiple actor perspectives and interests related to building adaptation;
Apply project management tools that assist in making decisions about building adaptation;
Translate design concepts into practical solutions for sustainable building adaptation.
Managing Building Adaptation: A Sustainable Approach by TU Delft OpenCourseWare is licensed under a Creative Commons Attribution-NonCommercial-ShareAlike 4.0 International License.
Based on a work at https://ocw.tudelft.nl/courses/managing-building-adaptation-a-sustainable-approach/.