Blossom Community Garden
Part two of RISD Architecture's Spring studio, Architectural Design, was undertaking a nearby design & build project.  This six-week project consisted of collaboration between 72 RISD Undergraduate and Graduate students and the Rhode Island Environmental Protection Agency.
As a result of Slater Mill and the start of the Industrial Revolution, the adjacent river, Blackstone River, became the most polluted river in the United States.  RISD's goal was to help to bring awareness to this issue, as well as to help to prevent future pollution.
Working off of an existing RISD pavilion, RISD students designed a new grape arbor pavilion, multiple rain gardens, river access, and a floating pavilion.  These designs were incorporated through various extensive landscape designs.  This project helped to create a connection between the existing pavilion and the waterfront, bringing human interaction to the site.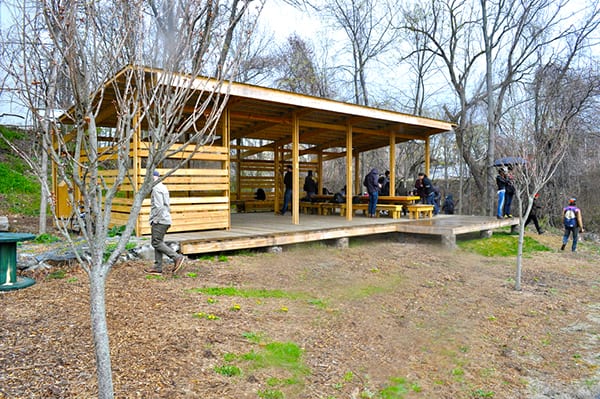 Grape Arbor Pavilion
Built off of an existing concrete retention wall, the grape arbor pavilion, is intended to be an initial place for rest and interaction, when first entering the Blossom Site.  The land was tended to and plowed for the installation of sonotube footings.  Framework was then added to create parameters for construction.  The entire pavilion was created from standardized scraps of wood, found around the site.  As a final piece, this semi-permeable skin allows for lighting, ventilation, and interaction to germinate.
Gabion Benches
The hillside is lined with staggered gabion benches, helping to create a meandering path for interaction.  Carefully positioning each gabion bench with a framed view allows for the area to also be utilized for personal reflection.  In addition to creating a space for experiential moments, the benches also act to help retain the earth.  As well, they assist in collecting larger debris from future runoff.   The hillside underwent extensive landscaping in order to help create this path.  Trees and regional vegetation were planted to create a more natural passage.  Zones were staked out, framing views for the incoming benches.  Steel cages were welded on-site, allowing for ultimate customization.  The cages were filled with rocks, which were collected through excavating the site.  Finally, the cages were capped with a wooden bench.  All together, creating an experiential passage.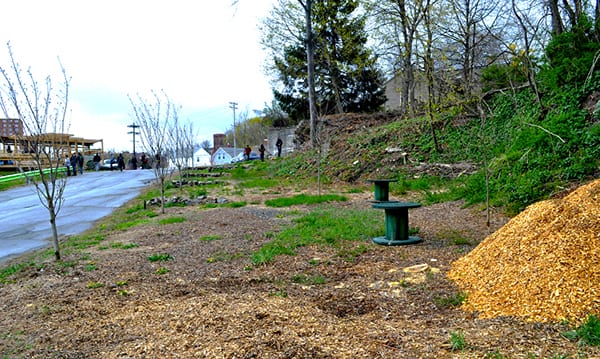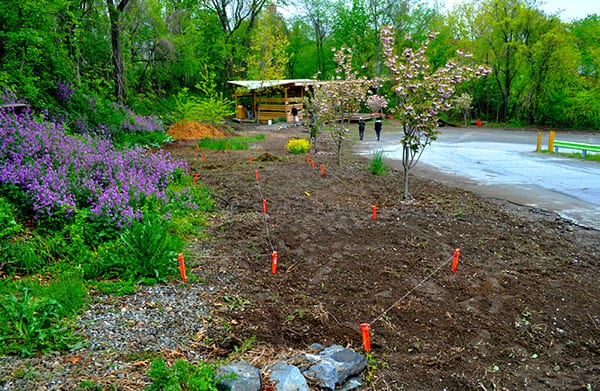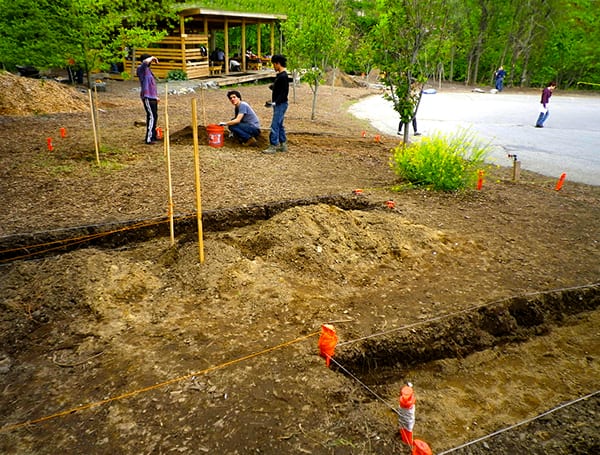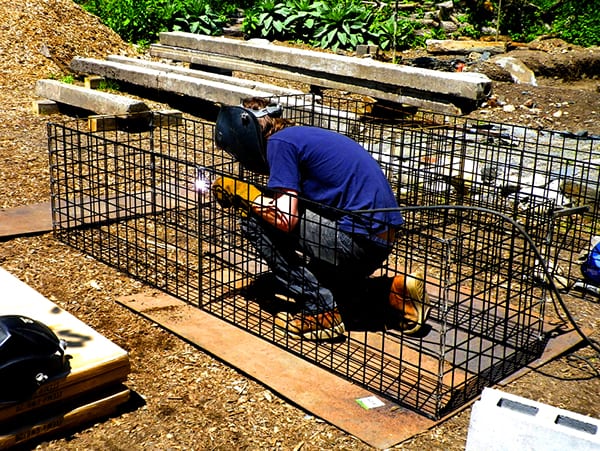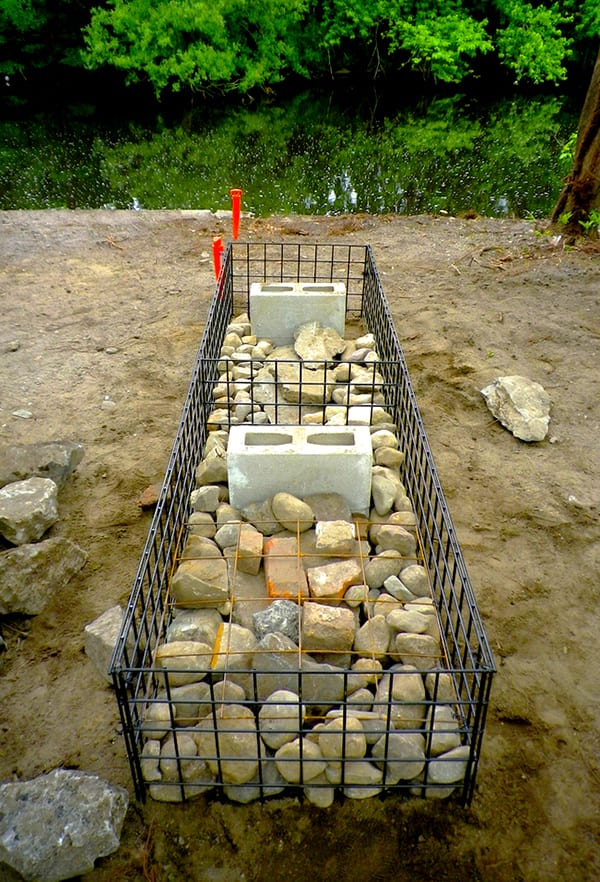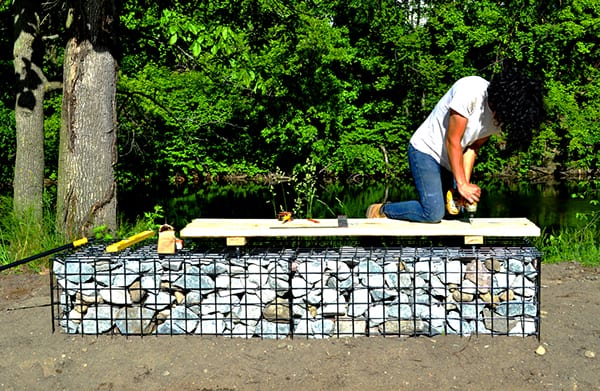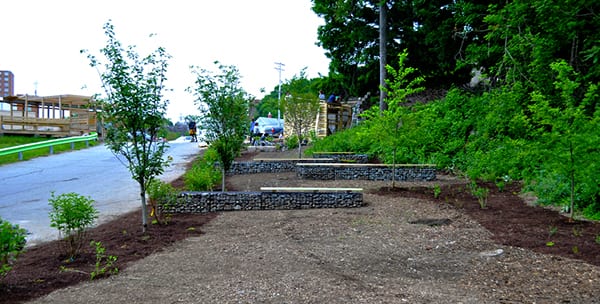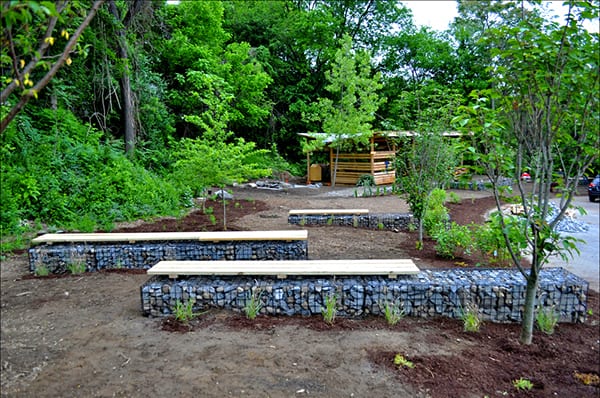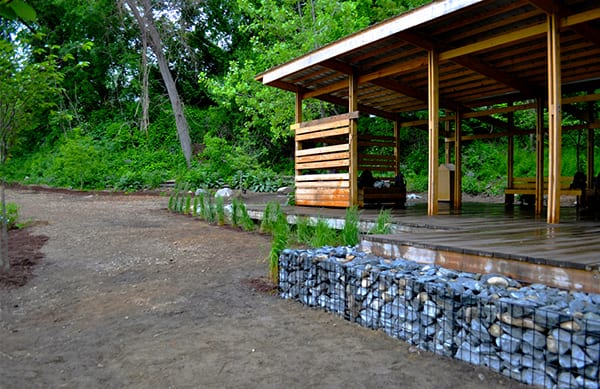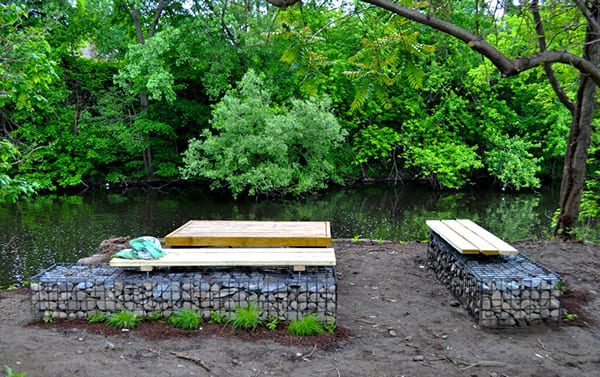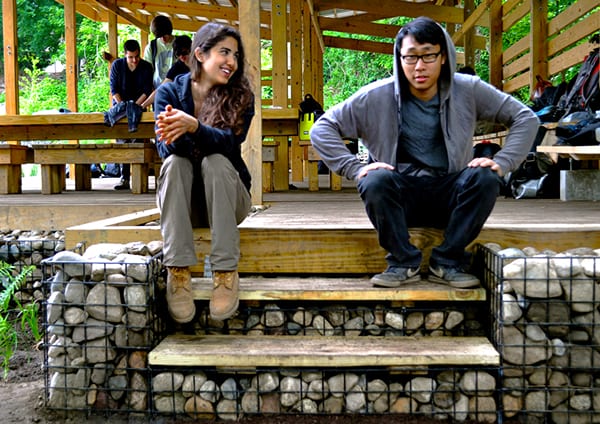 Rain Garden
In attempt to combat the runoff from the adjacent parking lot, multiple rain gardens were implemented to reduce water contamination.  These gardens consisted of a layer of sand, compost, bio retention, and topsoil.  Regional, thick rooted, vegetation was planted in the soil.  The combination of these creates a filtration zone for contaminated water to permeate through before reaching the Blackstone River.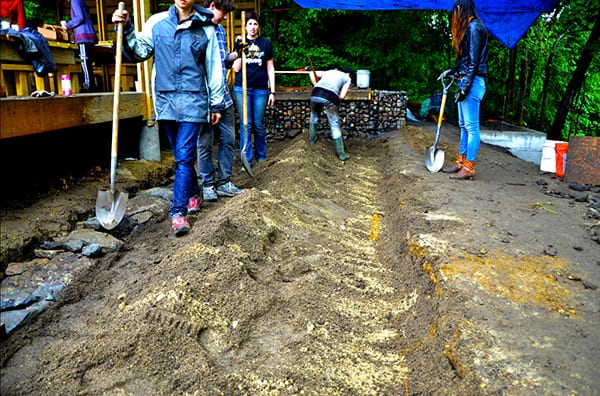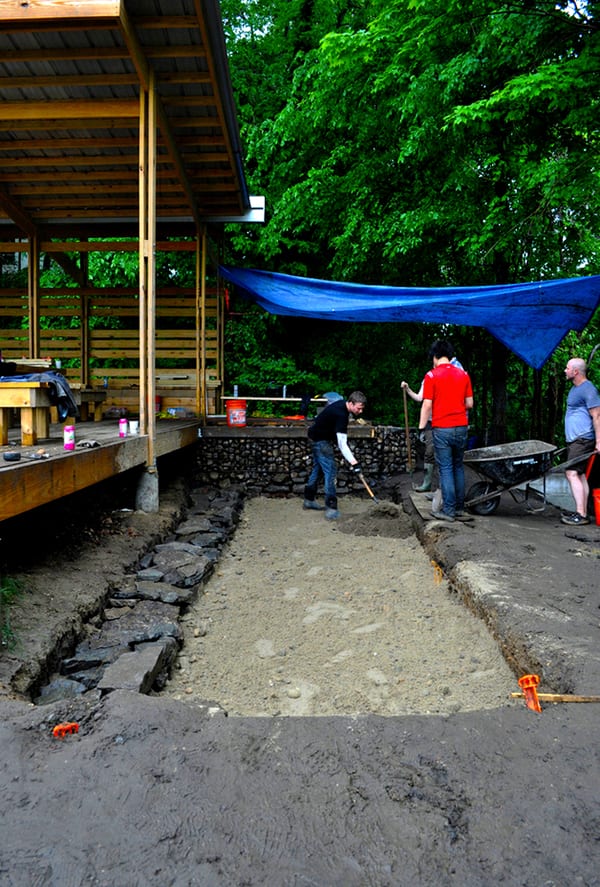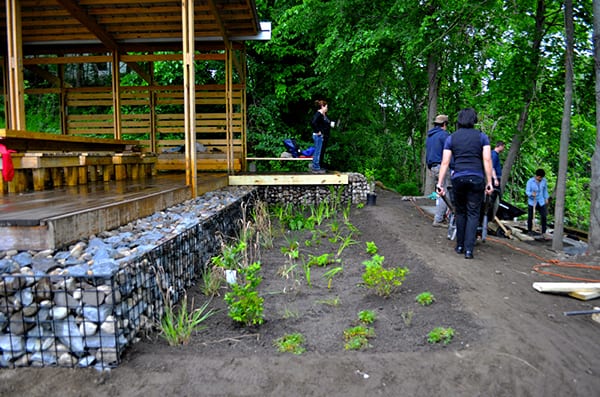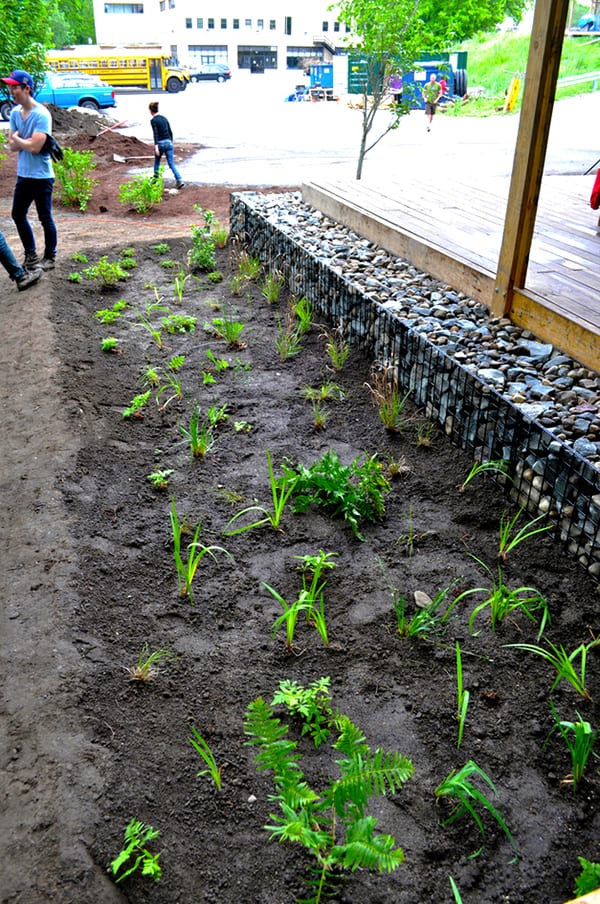 Water Access
Water access was created to connect the existing RISD pavilion with the new floating pavilion.  The hill was cleared and excavated to allow for a concrete foundation to be laid.  Wooden framework was constructed and inlaid with steel rebar in preparation for concrete pouring.  Once cured, these concrete terraces were buffed and backfilled with soil.  Wooden stairs were creatively implemented to create passage.
Floating Pavilion
Designed around a system of dock floats, the floating pavilion, extends from the land, creating a relationship to the water.  Consisting of dock floats, wood, and custom galvanized steel hardware, the 3,200-pound dock was not only a group effort to build, but to install, as well.
Blossum Community Garden is located at 333 Roosevelt Avenue, Pawtucket, RI
Thank you to the support of RISD's Architecture Department, as well as the whole RISD community.
RISD Architecture: Architectural Design & Build by Matthew Solomon is licensed under CC BY-NC-ND 3.0
You need to login or register to bookmark/favorite this content.