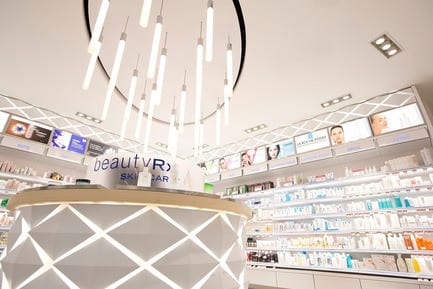 A v2com exclusive

Rethink consumer experience and surpass sales objectives

Vancouver, Canada
Case study on Tuxedo intervention for Shoppers Drug Mart Beauty boutique


Montréal, Canada, 2015-02-05 –

Designed as a prototype in 2012, Shoppers Drug Mart's new Beauty Boutique concept is now hitting its stride. For this project, Tuxedo rethought the notion of consumer experience in the pharmacy's beauty department and revisited the existing model within a controlled environment, focusing on architectural design. Results exceeded expectations in Bayview as well as in the Toronto Eaton Center in Ontario. The project was also very successful in 2014 in the Western regions of Canada, notably Richmond, Vancouver, and Calgary. This new year will bring a new pace to the Beauty Boutique with more store implementations in Ottawa and Montreal.
The objectives were clear: with a surface greater than 4000 square feet the consumer experience was to be enhanced with customer comfort and well-being in mind. Moreover, a unique, high quality furniture design was to be thought through to seduce luxury brands and encourage them to adopt this distribution circuit in Canada. The architectural result, along with digital integration, helped increase traffic, integrate new brands such as Chanel, as well as affirm Shoppers Drug Mart's Beauty Boutique signature and identity. A new and pleasurable uber-premium shopping experience took place in the world of cosmetics distribution in Canada, supported by Optimum's Loyalty Program.
"We are living in a time where brands need to create a buying experience beyond the products that they sell, as good as they may be. The challenge is then to offer brands a space where they can truly express themselves all the while affirming a high end identity and architectural signature within the pharmacy. The Beauty Boutique is precisely that: a revisited qualitative experience for today's consumer", adds Laurent Guez, VP of Environmental Design at Tuxedo.
Inspired by the Las Vegas effect of buying stimulation and online ease and freedom, we wanted to elevate the store concept with impressive inspirational architecture and design glorifying the assortment and displays. One of the biggest successes lies in the immersive and intimate spaces that the boxes create for each brand. Through this design, brands are able to fully express their story, which resonate further with the consumer and increase sales.
An architectural lighting signature was created for Shoppers through unique shapes that guide the consumer across each portion and facilitate the shopping experience. The dermo-cosmetic section seduces the consumers with its own identity and numerous brands from France. At its heart, a diagnostic counter sits under an impressive lighting fixture. Technology and comfort merge together to increase testing pleasure and discovery of products adapted to their needs.
In addition, Tuxedo saw the opportunity within technology and digital to bring Shoppers Drug Mart voice and brand forward. By creating uniformity through visuals and communicational coherence with multiple screens, the consumer perceives that they are living the Beauty boutique experience and that brands are just one aspect of it.
Credits
Clients: James Hargeaves, Walter Cifersons and Catherine Masson, Shopper Drug Mart
VP Environmental Design: Laurent Guez
Architect: Nathan Nardin
About Laurent Guez
Trained as a designer, Laurent first made a name for himself working for various European design agencies. Heading the Guez Communication & Design agency in Montreal for ten years, he has built a solid reputation for designing commercial spaces. With a global and strategic approach to design, he specializes in conceiving activities, creating brand environments, and relating stories to consumers – all this to spark their interest with a totally different experience. Laurent's work has received national and international media acclaim, and has been featured in design guides.
About Tuxedo
Tuxedo is a creative agency that tells inspirational, aspirational and impactful brand stories that better engage with your consumer. The stories we tell bridge physical and digital environments through a full-service offering that includes advertising, branding, digital creation, photo and video production, architecture and environmental design.

– 30 –
Media contact
Tuxedo
Guillaume Savard, project coordinator
514-664-5722 ext:126
Shoppers Drug Mart Vancouver
Photo credit:
Gadbois Photography
Shoppers Drug Mart Vancouver
Photo credit:
Gadbois Photography
Shoppers Drug Mart Vancouver
Photo credit:
Gadbois Photography
Shoppers Drug Mart Vancouver
Photo credit:
Gadbois Photography
Shoppers Drug Mart Vancouver
Photo credit:
Gadbois Photography
Shoppers Drug Mart Vancouver
Photo credit:
Gadbois Photography
Shoppers Drug Mart Richmond
Photo credit:
Gadbois Photography
Shoppers Drug Mart Richmond
Photo credit:
Gadbois Photography
Shoppers Drug Mart Richmond
Photo credit:
Gadbois Photography
Shoppers Drug Mart Richmond
Photo credit:
Gadbois Photography
Shoppers Drug Mart Calgary
Photo credit:
Gadbois Photography
Shoppers Drug Mart Calgary
Photo credit:
Gadbois Photography
Shoppers Drug Mart Calgary
Photo credit:
Gadbois Photography
Shoppers Drug Mart Calgary
Photo credit:
Gadbois Photography
Shoppers Drug Mart Calgary
Photo credit:
Gadbois Photography