Design Days Dubai Completes its Sixth and Most Successful Edition in its New Location, d3

Dubai, United Arab Emirates
The new location of d3, a refreshed layout, extensive talks, a workshop programme and a strong sales interest, contributed to the fair's success


Dubai, United Arab Emirates, 2017-03-23 –

Design Days Dubai, held under the patronage of HH Sheikh Hamdan bin Mohammed bin Rashid Al Maktoum, Crown Prince of Dubai, and in partnership with Dubai Culture & Arts Authority, closed its sixth edition on Friday 17 March reporting its most successful edition to date having attracted both the largest number of exhibiting design galleries and studios and a 10% year-on-year increase in visitor attendance.

Design Days Dubai (est 2012) is the only international collectible design fair in the Middle East and South Asia and one of Dubai's most-loved cultural events. The annual event presents a diverse cross-section of some of the world's most exciting highly-collectible design and installations, alongside a talks and workshop programme bursting with leading design personalities and industry experts.
Positioned as a fair of discovery, it welcomed its largest number of exhibitors, this year with the strongest representation of design from the UAE and region. In total, 50 exhibitors represented 125 designers from 39 countries with more than 400 purchasable works – from furniture and lighting to decorative objects –displayed.
Record visitor attendance and strong sales interest
Design Days Dubai management cited the fair's new location of d3, the heart of Dubai's creative industries, and refreshed layout and most extensive programme of talks and workshops as contributing factors to its high level of visitors.
Among the fair's visitors, Design Days Dubai welcomed HH Sheikh Mohammed bin Rashid Al Maktoum, Vice President and Prime Minister of the UAE and Ruler of Dubai; HE Sheikh Nahyan bin Mubarak Al Nahyan, UAE Minister of Culture and Knowledge Development; along with
many local, regional and international dignitaries.
A well-known patron of design, HH Sheikha Latifa bint Mohammed bin Rashid Al Maktoum, Vice Chairman of the Dubai Culture & Arts Authority, toured the fair at length, meeting many of the designers contributing to the shaping of Dubai as a global capital of design and innovation and concluded her visit with a design discussion on the development of the design scene in Dubai and UAE.
Design Days Dubai's continued development of broad regional and international networks included a dedicated professional buyers preview (targeting architects, interior designers, specifiers), as well as the popular annual VIP collectors and ladies previews, all served to draw in visitors from the fair's loyal following. Collectors, museums and institutions in attendance came from as far afield as Shangri La Center for Islamic Arts and Cultures (Hawaii, USA), Design Shanghai Collectible Design (China) and Ian Art Consulting (Korea). Many brought groups of curators and patrons to the fair, taking advantage of the buzz of Art Week and its other key events Art Dubai and Sikka.
Rawan Kashkoush, Design Days Dubai's Head of Programming said: "We are proud that Design Days Dubai 2017 closes as its most successful edition yet. There was buoyant mood throughout the fair, amongst its many visitors and exhibitors, who reported strong sales interest. Dubai has again reinforced its position as the regional centre of design and we look forward to continuing that fantastic momentum throughout to return in 2018 for our seventh edition."
An international platform
Design Days Dubai has established a reputation as a far-reaching international platform and this year welcomed debut exhibitors Leclaireur (France/USA), Territoire(s) (France/UAE) and Todd Merrill Studio (USA) bringing with them a range of collectible design from best-in-class American and European designers.
International designers on show also included 'Britain Takes Shape', an exhibition of British contemporary design, hosted by Dubai Culture in celebration of the UK-UAE Year of Creative Collaboration, which was a particular hit with the region's collectors.
Positive indicators of the success of the fair were not limited to strong sales interest but also by the number of exhibitors already confirming their return for the 2018 edition, along with interest from prospective exhibitors, many of whom travelled to the fair from the region and beyond.
Todd Merrill, founder of eponymous design gallery, a leading voice in international contemporary design, said: "Design Days Dubai was a perfectly run world class design fair that offered incredible dealer support which opened the Dubai market to us. Todd Merrill Studio received an amazing advance of publicity and overwhelming response to our booth by the attending trade and public. It was a fantastic experience that we hope to repeat."
A launch pad for regional talent
Design Days Dubai is the region's most established launch pad for the region's emerging design studios and solo designers to debut their furniture, lightings and design objects, featuring them alongside a diverse mix of the world's design galleries.
This year's first-time exhibitors from the UAE were Ayah Al Bitar, AYKA Design, CarpetsCC by Cecilia Setterdahl, Jafar Dajani, MCML Studio, Michael Rice and Nader Gammas; and from the region, Apical Reform (India), Aperçu Designs (Jordan), Marie Munier (Lebanon), Dahr (Saudi Arabia) and Ahmad Angawi, represented by King Abdullaziz Center for World Culture (Saudi Arabia).
First time exhibitor Dubai-based Nader Gammas, who presented a collection of brass and marble lighting, said: "Design Days Dubai's crew did an amazing job organizing and promoting the fair. Because of that, I was able to present my pieces to a very large audience, and contribute to the regional design scene."
Returning to the fair for its fifth consecutive year, Jill Hoyle, manager of Tashkeel said: "As always, Design Days Dubai was a great experience for Tashkeel and provided us with an amazing opportunity to showcase the work of the emerging designers who had been part of the Tanween programme over the last year. The opportunity to show their work alongside that of established regional and international designers and to get feedback directly from visitors to the fair is an invaluable experience for designers at this stage of their career.
A catalyst to the development of the local design community
Design Days Dubai remains a catalyst to the development of the design community in the UAE and region and supports initiatives that focus on regional talent.
These include partnerships with Van Cleef &Arpels (the fifth edition of Van Cleef & Arpel's Middle East Emergent Designer Prize), Audi (Audi Innovation Award), art and design organisaton Tashkeel (the fourth season of Tashkeel's successful design programme, Tanween), and Dubai Culture and d3 (the third Urban Commissions competition).
Mohammad Saeed Al Shehhi, Chief Operating Officer of d3, Design Days Dubai's new location commented: "We are extremely delighted to have hosted Design Days Dubai for the first time at Dubai Design District highlighting Dubai as a central and strategic meeting point for the local and international design community and firmly placing d3 as the centre for design in the Middle East, on a global level. Collaboration with events such as Design Days is key to our vision of ensuring that d3 continues to evolve into a truly integrated and global creative community, which nurtures and showcases the region's local talent to an international audience. We are really excited to see the way the region's design industry is flourishing through platforms like Design Days that supports our vision of nurturing local and regional talent and supporting them to reach their full potential."
Design Days Dubai is owned and managed by Art Dubai Group and is held under Art Week, an umbrella initiative bringing together the UAE's arts and culture-centred happenings in the month of March with the aim of promoting the cultural activities of the region to both residents and visitors.
Design Days Dubai has the continued generous support of its sponsors including the strategic partnership with Dubai Culture & Arts Authority, the Emirate's dedicated Authority for culture, arts and heritage; French high-jewelry maison Van Cleef & Arpels; Audi; and d3.
For more information about Design Days Dubai, and this year's exhibitors, please visit the website, www.designdaysdubai.ae. Supporters can also keep up to date with the fair on the following social media channels: Facebook, Instagram and Twitter.
About Design Days Dubai
Design Days Dubai is presented under the Patronage of H.H. Sheikh Hamdan Bin Mohammed Bin Rashid Al Maktoum, Crown Prince of Dubai and is held in partnership with the Dubai Culture and Arts Authority, the Emirate's dedicate Authority for culture, arts and heritage. Design Days Dubai is the Middle East and South Asia's only annual fair dedicated to collectible modern and contemporary design works, its sixth edition took place from March 14-17, 2017.
Positioned as a fair of discovery, the fair's unique format provides an international platform for the region's emerging design studios and furniture makers to debut their contemporary designs, featuring them alongside an eclectic mix of the world's leading design galleries. Running parallel to the exhibitor line-up is a programme of special projects, talks, workshops and guided tours allowing visitors to discover and engage with the design community and the works on display.
A pillar event of Art Week, Design Days Dubai this year moved to a new location, Dubai Design District (d3), the home for the region's design and creative industries. Design Days Dubai has the continued support of returning sponsors since its 2012 launch edition, including the Dubai Culture & Arts Authority, Van Cleef & Arpels, Audi, and d3.
Designdaysdubai.ae | @DesignDaysDubai | #DDD2017
To download images of Design Days Dubai:
https://www.dropbox.com/sh/6m4008b6qtdoz0j/AACXAqOc0VeJ3tTM5dLFapRRa?dl=0
For press information, please contact:
Christina Sang | The Portsmouth Group 
tel +971 4 449 0600
For press information, please contact:
Ciara Phillips | Rashed Aqrabawi
[email protected] | [email protected]
Tel +971 (0)55 650 7431 
Design Days Dubai is presented by the following partners
About Dubai Design District
Dubai Design District, (d3), a member of TECOM Group, is a destination dedicated to design. The chosen home for the region's growing collective of creatives, artists and designers, d3, has fast become the hub for inspiration and innovation. Created to answer the growing need from the industry, d3 provides businesses, entrepreneurs and individuals from across the design value chain with a thriving community where they can collaborate, create and inspire.
Known for its versatility d3 has become a popular events space, attracting international crowds to cultural exhibitions such as Dubai Design Week, Fashion Forward, Sole DXB and Meet d3, which have simultaneously driven footfall to d3's distinguished repertoire of design-focused outlets, art galleries and eateries.
The Design Quarter at d3 is very much alive with a range of lifestyle boutiques, art galleries and culinary concepts in its core 11 buildings. Taking a novel approach, d3 has selected a mix of original home grown and international concepts to form a creative community of new retail outlets, restaurants and innovative pop-up events that invite visitors to enjoy a more authentic shopping and dining experience.
d3 is constantly evolving. To cater to its growing number of residents, d3 will feature a one million square foot Creative Community which is currently under construction, and will act as the site's cultural epicenter, inspiring emerging designers and artists. Another key goal for d3 is to continually surpass the expectations of its visitors, and so d3 will also boast a bustling 1.8km Waterfront development running alongside the Dubai Creek, with international and design-led hotels, boutique retail concept stores and an outdoor events space, as well as a host of hospitality and leisure facilities.
To support its many creative partners, d3 offers individuals and businesses the choice of operating either as a free zone entity or as an on-shore business, each with its own merits. http://www.dubaidesigndistrict.com/
Dubai Culture & Arts Authority
The Dubai Culture & Arts Authority (Dubai Culture) was launched on March 8, 2008 by His Highness Sheikh Mohammed bin Rashid Al Maktoum, UAE Vice President and Prime Minister and Ruler of Dubai, in order to drive the growth of the city's artistic and cultural landscape. The Authority has grown to play a major role in the realisation of the Dubai Plan 2021, to highlight Dubai as a thriving capital for creative industries and further embed the Emirate's credentials as a city of happy, creative and empowered people.
As part of its mandate, Dubai Culture has several initiatives that are focused on strengthening both the historic and modern cultural fabric of Dubai, including Dubai Art Season – the city's premier umbrella arts initiative which kicks off with Emirates Airline Festival of Literature and encompasses Art Week including Art Dubai, Design Days Dubai, and SIKKA Art Fair, Middle East Film & Comic Con, SIKKA Art Fair – an annual event aimed at promoting Emirati and local artists in the UAE and the wider GCC region, Dubai Festival for Youth Theatre – an annual festival that fosters the art of theatre in the UAE and that is celebrating its 10th anniversary in 2016, and Dubai Next – a dynamic platform that aims to showcase the Emirate's cultural ethos and its vibrant creative scene on the global stage.
The Authority's other key initiatives include Creatopia (www.creatopia.ae) – the nation's first government empowered virtual community that guides and nurtures the creative culture of the nation and provides a platform of information and opportunities that lead to exposure and personal growth.
Dubai Culture also plays a leading role in support of the UAE National Strategy for Reading 2026, in particular by undertaking a major refurbishment of all Dubai Public Libraries branches to transform them into state-of-art cultural and artistic hubs. Across all of its branches, Dubai Public Library also provides children and young adults with a range of educational and entertaining activities that encourage the use of its facilities. The 'Our Summer is Filled with Culture & Arts Programme' is a Dubai Public Library initiative which complements the UAE National Reading Strategy, with its activities open to all age groups, and which revolve around four key themes: happiness, reading, family and the future.
The Authority also manages more than 17 heritage sites across the Emirate, and is a key government stakeholder in the development of the Dubai Historical District. As the custodian Authority of Dubai's museum sector, Dubai Culture will officially launch Etihad Museum in December 2016. The museum will provide a platform to encourage cultural exchange and to connect Emirati youth with their culture and history. As part of the Authority's mandate to support Dubai's vision of becoming the focal point of diverse cultural exchange (regionally & globally), all of its museums will provide a catalyst to preserve Emirati Heritage. www.dubaiculture.gov.ae
About Van Cleef & Arpels
Founded in 1906 in Paris' Place Vendôme, Van Cleef & Arpels came into being following Alfred Van Cleef's marriage to Estelle Arpels in 1895. Always striving for excellence, the Maison has become a worldwide reference through its unique designs, its choice of exceptional stones and its virtuoso craftsmanship, offering jewels and timepieces that tell stories and bring enchantment to life. Over the years, the Maison has remained faithful to this highly distinctive style characterized by creativity, refinement and poetry. Whether inspired by nature, couture or works of the imagination, its collections evoke a timeless world of beauty and harmony. www.vancleefarpels.com
Audi
The Audi Group, with its brands Audi, Ducati and Lamborghini, is one of the most successful manufacturers of automobiles and motorcycles in the premium segment. It is present in more than 100 markets worldwide and produces at 16 locations in twelve countries. 100 percent subsidiaries of AUDI AG include Audi Sport GmbH (Neckarsulm), Automobili Lamborghini S.p.A. (Sant'Agata Bolognese, Italy) and Ducati Motor Holding S.p.A. (Bologna, Italy). In 2016, the Audi Group delivered to customers  1.87 million automobiles of the Audi brand, 3,457 sports cars of the Lamborghini brand and about 55,451 motorcycles of the Ducati brand.
In the 2015 financial year, AUDI AG achieved total revenue of €58.4 billion and an operating profit of €4.8 billion. At present, approximately 85,000 people work for the company all over the world, about 60,000 of them in Germany.
AUDI AG's commitment to the region was confirmed through the foundation of its fully owned subsidiary in 2005. The current Middle East model range comprises the Audi  A3 & S3 Sedan/Sportback and RS 3 Sportback, A4 and RS 4 Avant, the A5 Coupe, Sportback, Cabriolet and RS 5 Coupe and Cabriolet, the A6, S6, RS 6 performance, A7, S7, RS 7 & RS 7 performance, A8, A8 L, S8 & S8 plus, the Audi Q3, RS Q3, Q5 & SQ5, Q7 and the Audi TT Coupe/Roadster, TTS Coupe, TT RS Coupe, the Audi R8 Coupe as well as the R8 Coupe V10 plus. http://audiinnovationaward.com/
Art Week
Art Week, initiated by Art Dubai LLC and supported by Dubai Culture & Arts Authority and Dubai Design District, is a central week-long event in the region's cultural calendar, playing an important role in bringing together and showcasing Dubai's creative achievements and ambitions. This annual celebration of art, design and culture, running from 14 to 24 March in 2017, returns with an expanded programme of exciting events that celebrate the diversity and dynamism of the art scene in the city of Dubai and the wider UAE. www.artweek.ae

– 30 –
Media contact
Design Days Dubai
Rashed Aqrabawi, Marketing & Communications Coordinator
+971-4-563-1430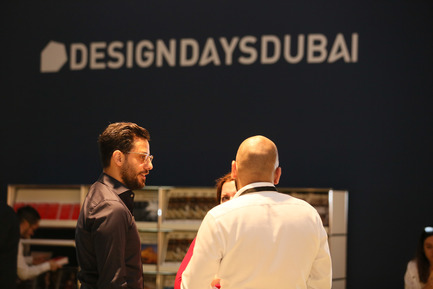 DDD2017_Cities Store  Dubai Pictured: Tarek El Kassouf
Photo credit:
Image Courtesy of Design Days Dubai 
DDD2017_Jorjuk Structure by Coalesce Design Studio
Photo credit:
Image Courtesy of Design Days Dubai 
DDD2017_design by Shauna Richardson exhibiting with UK CRAFTS COUNCIL
Photo credit:
Image Courtesy of Design Days Dubai 
DDD2017_Jorjuk Structure by Coalesce Design Studio
Photo credit:
Image Courtesy of Design Days Dubai 
DDD2017_Front Desk
Photo credit:
Image Courtesy of Design Days Dubai 
DDD2017_H.H. Sheikh Ahmed at Nakkash Gallery booth with Wajih and Omar Nakkash
Photo credit:
Image Courtesy of Design Days Dubai 
DDD2017_Sheikh Nahyan at the Atlas Bookstore
Photo credit:
Image Courtesy of Design Days Dubai 
DDD2017_Sheikh Nahyan with designer Michael Rice
Photo credit:
Image Courtesy of Design Days Dubai 
DDD2017_designer Ahmad Angawi from the King Abdelaziz Centre for World Culture_ speaking with Sheikh Nahyan
Photo credit:
Image Courtesy of Design Days Dubai 
DDD2017_Sheikh Nahyan with Juli Bolanos Durman who is exhibiting with the UK Crafts Council
Photo credit:
Image Courtesy of Design Days Dubai 
DDD2017_Jouzour designed by Marie Mounier
Photo credit:
Image Courtesy of Design Days Dubai 
DDD2017_Patron in Marie Mounier's booth
Photo credit:
Image Courtesy of Design Days Dubai 
DDD2017_MB&F M.A.D GALLERY
Photo credit:
Image Courtesy of Design Days Dubai 
DDD2017_The Studio _ Workshop_ Kas Oosterhuis_ The How and Why Of Parametric Design (6)
Photo credit:
Image Courtesy of Design Days Dubai 
DDD2017_Todd Merrill Booth (empty)
Photo credit:
Image Courtesy of Design Days Dubai 
You need to login or register to bookmark/favorite this content.