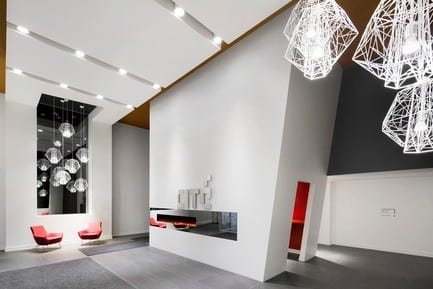 A2DESIGN 1st prize winner at the "Best of Canada" design competition for the project Cité Cosmo – Groupe Cholette

Laval, Canada

Laval, Canada, 2015-02-09 –

Recently took place the 17th edition of the « Best of Canada» design competition of the magazine Canadian Interiors for which 173 registrations were submitted. A2DESIGN is proud to have won the first prize in the category "Lobby" for the project Cité Cosmo, realized in collaboration with Groupe Cholette.
Located in the heart of the renowned Centropolis in Laval, the impressive lobby of the building has been enhanced with chrome, large format ceramics with subtle textures, wood and lighting with crisp and simple lines. The selection of elegant and luxurious finishes, paired with ultra-contemporary furniture, gave the distinguished and upscale effect desired. A custom concept of signage and typography has also been created, reminding of the pixelated logo accentuated with red from the branding image already established by Cité Cosmo.
With a timeless and contemporary signage and design, A2DESIGN has been able to create a luxurious atmosphere with a unique and sober character. An exceptional design reflecting the urban lifestyle of the district!
For over 20 years, our multidisciplinary team composed of architects, architectural technologists, urban designers, interior designers, graphic designers and work environment specialists has made a commitment to deliver innovative and effective solutions for large-scale projects in residential, corporate, commercial, industrial or mixed use sectors. The realization of projects uniting aestheticism, functionality and strategy according to your budget, schedules and business and investment objectives is made possible by our expertise. Reinventing your environment, your space, according to your objectives, is the mission we work passionately towards day after day.

– 30 –
Media contact
A2DESIGN
Sonia Poirier, Communications & marketing coordinator
514-270-9082  #301
 A2DESIGN | CITÉ COSMO – GROUPE CHOLETTE, LAVAL
Photo credit:
Adrien Williams
A2DESIGN | CITÉ COSMO – GROUPE CHOLETTE, LAVAL
Photo credit:
Adrien Williams
A2DESIGN | CITÉ COSMO – GROUPE CHOLETTE, LAVAL
Photo credit:
Adrien Williams
A2DESIGN | CITÉ COSMO – GROUPE CHOLETTE, LAVAL